RUGLINK by HRATCH KOZIBEYOKIAN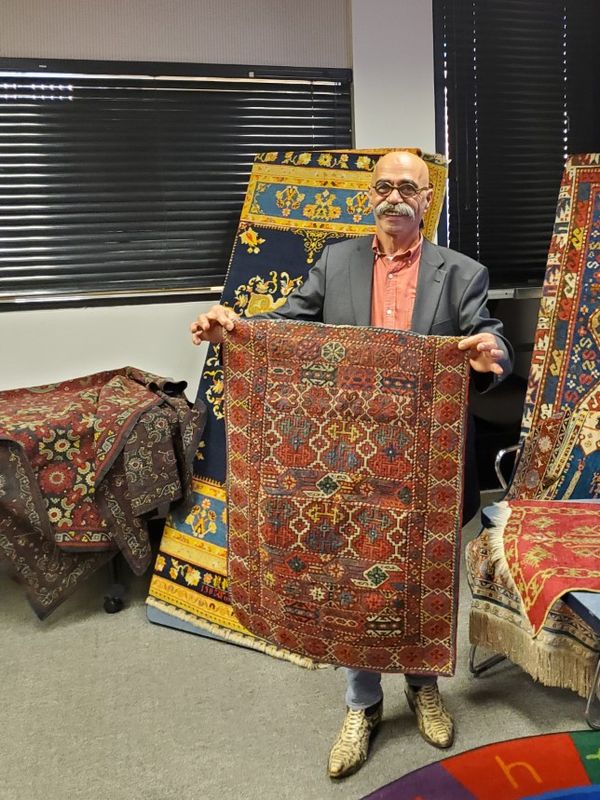 ABOUTHRATCH
Hratch Kozibeyokian, labeled as the "Rug Doctor" by LA Times, has a background that is not an ordinary one: a true citizen of the world who was born in Aleppo, Syria, and raised in Lebanon in a family with a rich tradition of weaving craftsmanship and has found a home in America. He immigrated to the United States in 1977 to join his father, where he worked with two Oriental Rug Companies as a restoration specialist, Klujian Rug Co., and Michael Isberian at Beloian Oriental Rug co in Chicago. In 1979 he settled in Los Angeles and earned a B.A. in Cultural Anthropology from Chapman College. A true craftsman, who understands academic and applied cultural art in textiles, and their role in society, in 1990 Hratch and his wife Mira Assadourian established KO 'Z' Craft, a workshop studio to restore and conserve hand-woven antique textiles and carpets. His experience has been valued by many throughout the world, who seek his consultation for private collectors, dealers, and interior decorators in the trade and he also provides professional appraisal certificates. In 1992 Mr. Kozibeyokian and his wife Mira Assadourian opened an exhibit gallery in West Hollywood's design district, Mr. Kozibeyokian also holds extensive collections of Armenian, Caucasian, and diverse hand-woven rugs and textiles, Mr. Kozibeyokian often travels to curate, exhibit, and lecture on various subjects of handwoven textile arts.
His most recent articles include on BBC.com Hratch shines a light on how president Calvin Coolidge and the United States were thanked for their humanitarian efforts during the Armenian Genocide. Mr. Kozibeyokian became the first lecturer on "Contribution of Armenian Rugs in world Culture" within the Armenian Studies Program at the California State University, Northridge, as well as various schools, museums, cultural societies, and groups of Art connoisseurs. He has published numerous papers in various publications and spoken in symposiums, conferences, collectors, and has consulted many designers. In 1998 Kozibeyokian joined the Armenian Rugs society and has served on its board since and on March 21, 2015 he was elected the president of the Armenian Rugs Society. www.armenianrugssociety.org
In November 2014 Mr. Kozibeyokian was invited to disclose the history of The Ghazir Orphan Carpet in Washington DC's White House Visitor's Center at the congressional press conference.
Mr. Kozibeyokian was also invited by the Smithsonian museum in Washington DC to present the Armenian carpet weaving tradition at the Folk Life Festival held on from June 27, to July 4, 2016. Mr. Kozibeyokian holds the "Best Oriental Oriental Rug Restorer in Los Angeles" award, Many magazines and newspapers have published articles about him and his works including featured editorials in Los Angeles Times and Chicago Tribune Daily Newspapers, he was also featured in several documentary movies staging the history and the age-old Armenian carpet weaving tradition.
Contact information:
Office: 818 353 4455
Mobil: 818 621 8710
hratch@ruglink.com